We accept high-end and authentic luxury and designer men's and women's clothing, shoes, handbags and accessories in good condition. We review pieces for consignment by appointment. 
 If you are an existing consignor or have a specific question about an item you are interested in consigning, you are always welcome to drop in or bring your item by. Having an appointment ensures we will be ready for you when you arrive.
Existing Consignors, access the Consignor Access Portal here.
Preparing for your consignment appointment
We prefer all items on hangers. This helps clothes stay wrinkle-free and allows us to sort and review your pieces efficiently. We will return any empty hangers to you.  Bringing your clothes folded neatly in a basket or tote is also acceptable.
Your items will always be looked at enthusiastically and without judgment at Consign Couture. Our consignors are the life of our business – you and your garments will always be treated as such.
We accept items on consignment only. We do not pay upfront or directly purchase items. Items we accept will be consigned for 90 days.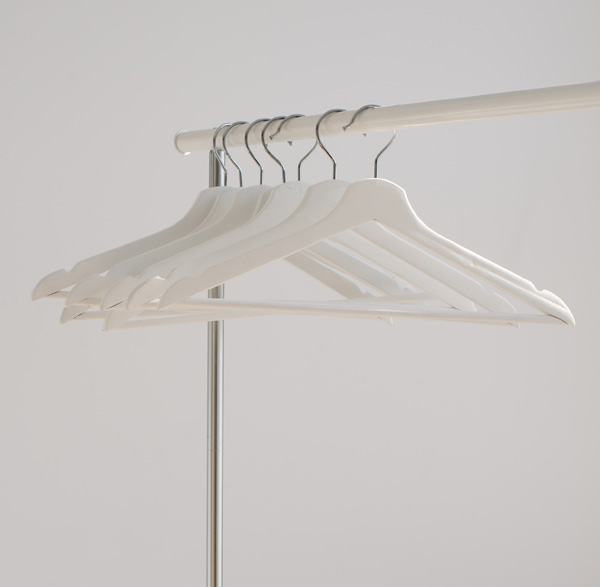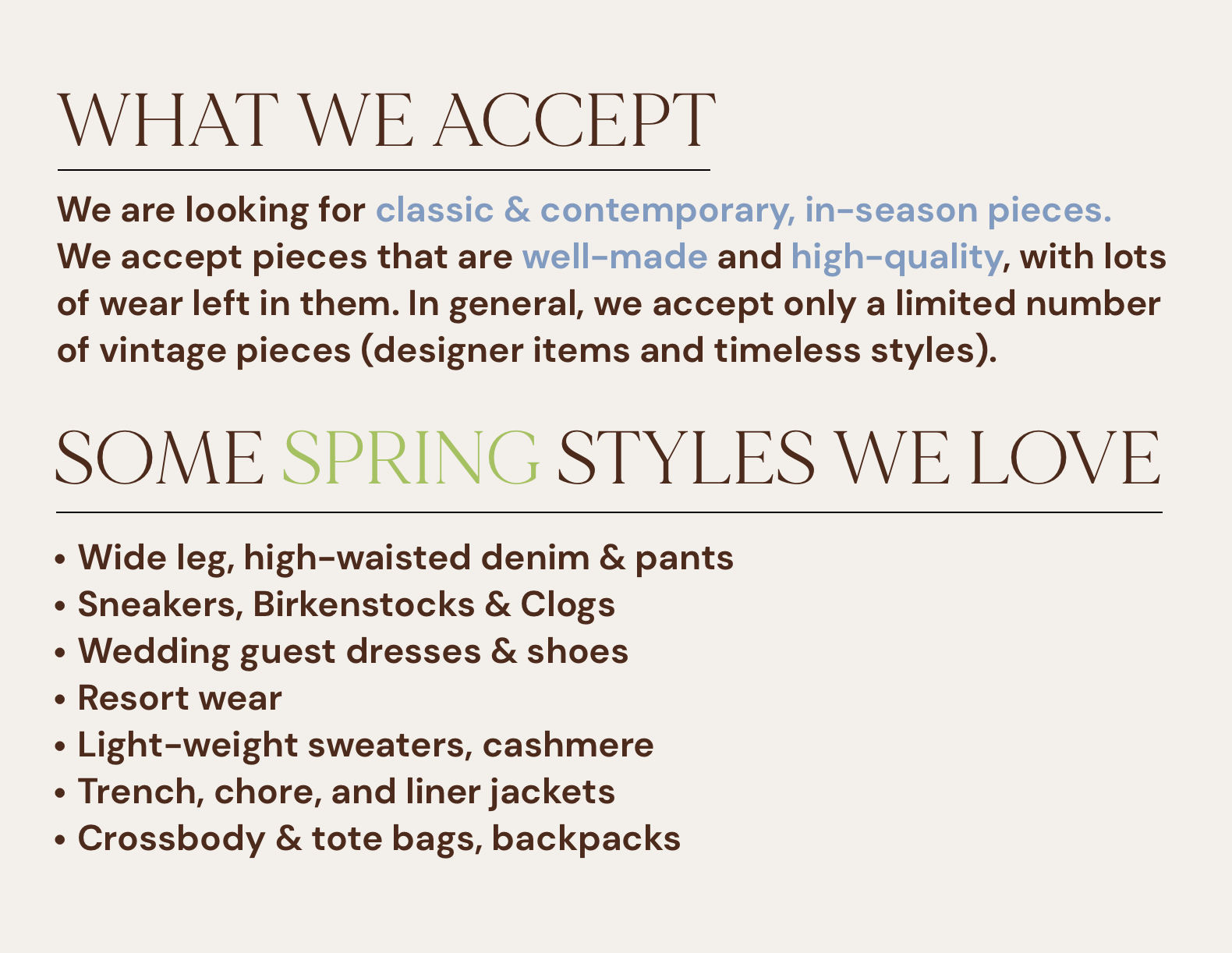 We are always looking for designer accessories and plus-size clothing. We are currently accepting wearable spring pieces (clogs, sneakers, high-waisted denim, lightweight sweaters). If you have specific questions about items we accept, please contact us. 
When you sign our consignor contract, you will choose whether to be paid in store credit or in cash (monthly check or paypal) for items that sell. How you choose to be paid determines the payout split.
Store Credit: Choosing store credit means that you will get 50% of the selling price of each item sold. This credit is available to use immediately upon each sale and will accumulate until redeemed.

Store credit does not expire.
2. Monthly Check: Choosing to be paid by monthly check means that you get 40% of the selling price of each item sold. Checks are available for in-store pickup on the 10th of each month for inventory that sold the month before. Checks cannot be mailed and will be held at the store for six months. Checks become void after six months. If you are unsure whether you have a check available for pick up, you can check your consignor access account or give us a call!
PayPal: If you are unable to come into the store to pick up a check, we can transfer funds to you via PayPal.
Items sold for over $1000 are subject to special terms: You earn 60% of the sale price of items sold for $1000 or more. These terms will apply whether you choose to be paid by check or store credit.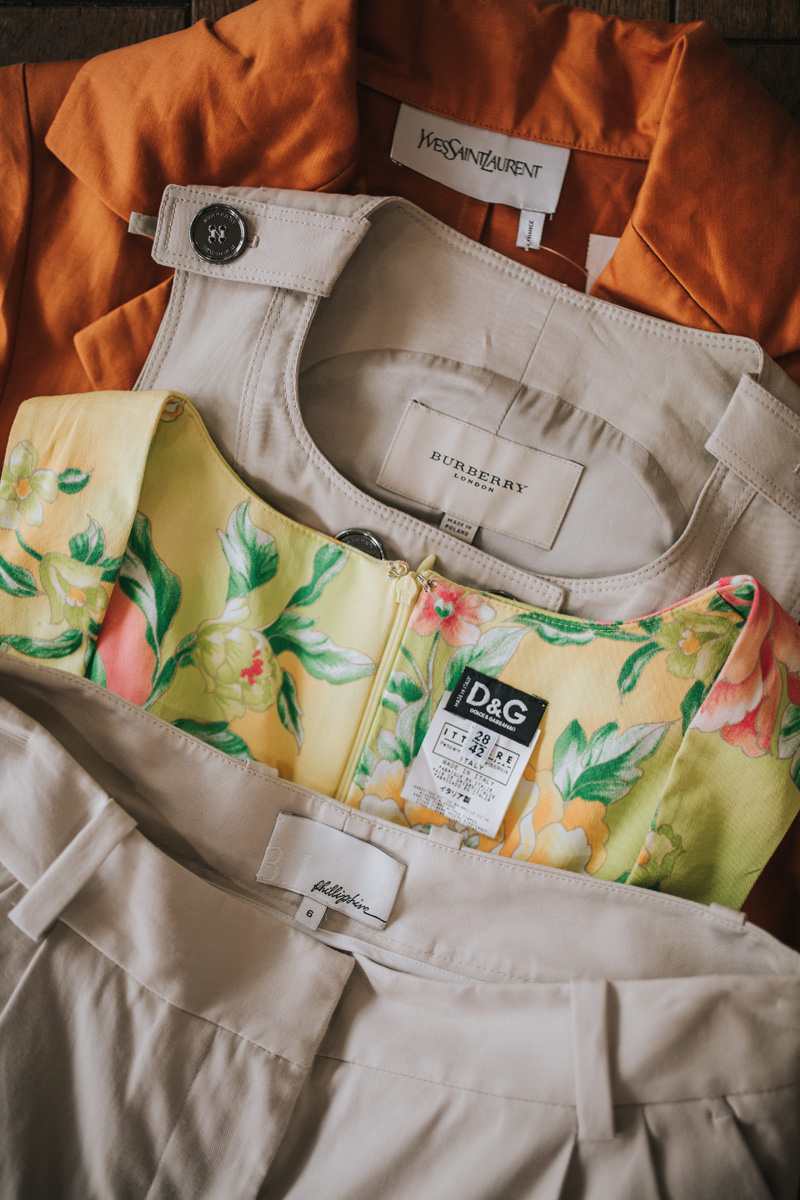 We work hard to set fair prices to create the best deals for our shoppers and highest return for our consignors. We take many things into account when pricing items, including:
What was the original retail price of the item?
How much is the item reselling for online?
Is the item in limited supply?
Is it a piece that goes on sale, and has it gone on sale before?
How old is the piece?
Does it show signs of wear?
This means that more often than not, we will price items for less than the amount you paid for them.
The fun of shopping consignment is finding a great deal. We handle the time-consuming work of listing and marketing the item for resale for our consignors. If you have questions about how your designer or luxury item will be priced, please talk to a member of our team. We do not set prices at the time of consignment intake.
Consign Couture reserves the right to hold sales and offer discounts on all inventory.
What happens to unsold items?
We do our best to accept items that we believe will have the best chance of selling to our customers. At the end of the 90-day consignment period, any items that have not sold can be returned to you or may be donated to our nonprofit partners.
Anytime we accept items, you will be given an "expiration date" card listing the date the 90-day consignment period for your pieces will end. If you would like unsold, expired pieces returned to you, keep note of the expiration date and please contact us one week prior so we can pull your pieces from the floor. We will not contact you about expiring pieces.
My pieces are about to expire. I would like to:
I have a lot of clothes. Do I have to bring them all into the store?
No. If you have many pieces, a virtual consignment consultation or in-home pickup may be the best option for you! See our services page for more information & to book.
I lost my consignor access link. How can I get a new one?
Please send us an e-mail to request a new link.
I think my clothes are close to expiring and I am not sure what has sold. What should I do?
You can check your Consignor Access link to see expiry dates, sold items, payout history and available balance. Or send us an email!
Why is shop dog Miso's tongue always sticking out?
He's a Japanese Chin x Chihuahua. Japanese Chins are known for having tongues that hang out and Miso is no exception! (#TongueOutTuesday). Plus, he's had a couple of tooth extractions.
Can I switch between store credit and cash payout?
You can change your payout preference by sending us a request via email. The change will take effect immediately but will not impact the payout for any items that have already sold.
My clothes are expiring. How can I arrange to pick up unsold pieces?
Please submit a request via our Contact page at least one week prior to the expiry date so we can pull them from the shop floor and have them ready for you to pick up.
I know some of my pieces have sold but my balance disappeared in Consignor Access. What happened?
If you choose to be paid by check or paypal, your balance will clear monthly when the check is cut and the accounts are reconciled. Your balance clearing means that we have a payout ready for you, or will have one available soon. Checks are cut between the first and tenth day of the month and are ready for pickup in store after the 10th.